The Cerbera looks great, it really does – a timeless design, but with those stock original 16″ wheels, it really needs some TVR Spider wheels, they just look so damn good.

Since owning this car, I've pretty much worked my way round all the oily bits replacing at no expense what it deserves, but now it's time to focus on some aesthetics.

In typical TVR fashion, of course it's not as simple as just buy some TVR Spider wheels and screw them on – oh no.
---
So here's everything you need to know and everything you need: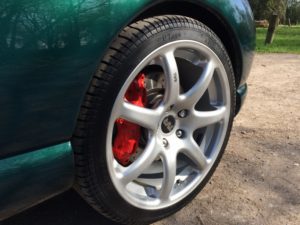 4 front 18″ Spider Wheels
Front Tyres: 235/18/35 on a ZR speed rating
Rear Tyres: 255/18/35 on a ZR speed rating
Lock stops
A grinder 🙂
---

18″ TVR Spider Wheels are sold as either "front" or "rear". You will need 4 fronts.
Those front tyres at the time of writing this are only made by 1 manufacturer in that size (Pirelli). I have heard of people dropping down to 225 size as that does open up cheaper/other brand alternatives.

The front wheels will foul the upper wishbone on full lock, so you will need a couple of lock stops. These small nylon clips very slightly restrict the full lock, and ever so slightly reduce the turning circle. Your 7 point turns may now be 8 🙂
---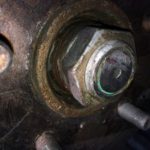 Also, you're going to need a grinder, or as I did, find a competent garage. When TVR started offering these wheels on Cerberas, the factory would grind away the thread on the rear hubs, else the centre caps wouldn't fit.
---
One down side of these very low profile tyres I read about is that they can tend to tramline, especially at speed.
Since I've had these wheel & tyres on, I haven't noticed this, but that is probably due to the fact that although all 4 tyres are Pirelli P zero, the front & rear tread pattern is different.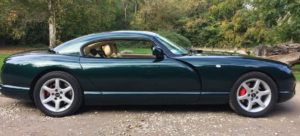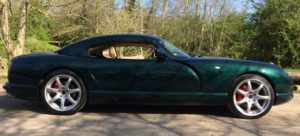 All in all, I am very pleased with the new look and the new stance, and having more rubber (wider tyres) is always a good thing in my books.

Note to self, I need to update the main photos on the homepage, and when the weather changes I will.
These winter months suck. It really is a rock and a hard place. I will not drive the car in the wet and even when it is "dry", it is still damp and you just can't get the hammer down anything over a third throttle. But I like to run it out at least once a week, just to keep things moving – these cars do like to be driven regularly. Come on Spring.. where are you.

edit: spring is here, site photos updated. Still loving these wheels, no tramlining whatsoever, and they do look so cool.
---