The interior on my car is almost flawless. I say almost, because the 2 sole areas of wear (drivers seat and steering wheel) were showing their age. I had already addressed the drivers seat, and finally I wanted to get round to the Steering Wheel.

Now don't get me wrong, it wasn't in a tatty state; it just wasn't new car looking.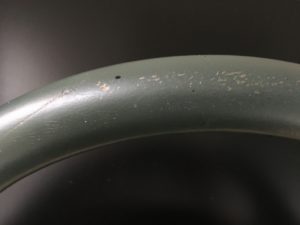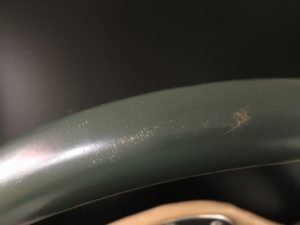 The leather had generally faded, there was a scratch probably from a ring.. just tired looking.

I suppose I could have looked into having it re-coloured/repaired, but I wanted it done properly, and I also had another inspiration: the steering wheel buttons.

There had been a couple of occasions, during spirited driving, when I'd accidentally pressed one of the buttons with the palm of my hand, and it set the wipers or horn off.
Upon closer inspection, it was clear what was going on. The buttons themselves were super-sensitive, they'd lost some of their spring. A couple of the buttons had sunk further into the leather button pads, and with the leather itself also aged and stiff, they were in danger of being permanently pressed in, due to the overlapping leather. The button decals (stickers), were also looking a little tired.

So it was decided then. Re-trim the steering wheel, replace the buttons and replace the button decals.

I chose D&C in Blackpool to re-trim the steering wheel, they are based in the original TVR buildings and upon receipt of my steering wheel, also confirmed they had an exact colour match hide.

While the steering wheel was away being re-trimmed, I took a closer look at the buttons.



On the left you can see what the button should look like. On the right you can see what 2 of my buttons looked like. 3 missing legs, resulting in the button sinking into the leather.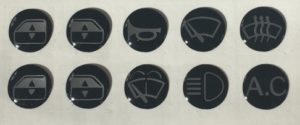 I also tracked down some better steering wheel button decals (thanks Peter!) – these are gel domed, and not only look better, but will last a long time.


The result. I'm very pleased with this. The colour is a perfect match to my interior, the leather feels soft, and the buttons I am pleased to say feel tactile again. To press, you have to consciously press.